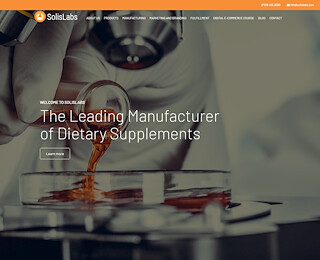 Private label manufacturers must be trustworthy, protecting intellectual property and the well-being of your customers. Nowhere is this true more than in the dietary supplement and health-related markets. Failure to find the right partner can hurt your consumer and damage or destroy your brand.
What are private label manufacturers?
Private label manufacturers produce items for sale under another company. In the nutritional supplement market, this means creating pills, tablets, gels, and liquids using your formulation through another company such as SolisLabs.
Production of groceries, textiles, and supplements occurs in this way. Large-scale manufacturers save cost and provide stability for small and medium-sized businesses or new entrants looking to test the market. Manufacturers create full lineups and even unique promotional items.
What services does a private label manufacturer provide?
Private label manufacturers provide a variety of services. These include packaging and manufacturing.
SolisLabs goes well beyond traditional outsourcing to help in the formulation process as well. Specific partners have access to our private label formulations and can work with us to create a product that meets market demand using the best ingredients.
How do I know I can trust a private label manufacturer?
Foremost among concerns for organizations looking to outsource production is the protection of their intellectual property. Legal agreements and inspections help to achieve a degree of protection. However, it is essential to find a producer with a history of helping others to market successfully.
Foreign companies may not be as trustworthy as their American counterparts. China does not enforce patents from the United States, and their businesses are known to use otherwise proprietary technology.
SolisLabs is an American firm with a pedigree for bringing products to market. Our partners rely on us for everything from manufacturing to packaging and even formulation. We employ expert chemists and trained professionals.
Are there ways to ensure the quality of my private label if I outsource?
Certification and approval processes help avoid significant issues concerning supplement quality. The Good Manufacturing Practice regulations or CGMP, National Safety Foundation or NSF, Natural Products Association or NPA, and Food and Drug Administration ensure that your partner creates healthy products without damaging your brand or harming your consumer.
The certification and approval processes examine everything from the quality of facilities to the trustworthiness of the product. These groups aim to minimize malpractice, mix-ups, and errors.
It is important to find a manufacturer abiding by the certification processes and with a track record of FDA approval. Failure to meet FDA standards results in an adulterated product. If your supplement significantly impacts health, the government can secure an injunction or order the seizure of your goods. This forced recall is never helpful for brand image and destroys market authority and trust.
SolisLabs works with industry-leading groups to maintain the most relevant certifications. The CGMP, FDA, and NPA certify our products and facilities. Formulations can be further tested by the NSF credibility and use in sports.
If you are looking to save cost or test the market, a private label manufacturer is a good outsourcing choice. SolisLabs produces high quality certified goods. Contact us today to find out more.
Private label Manufacturer