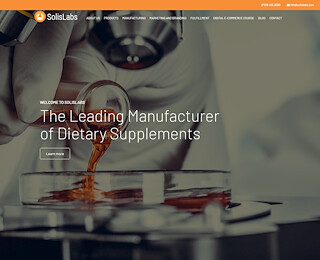 Sheep collagen has been shown to work wonders for the skin, making collagen an excellent and popular beauty supplement. The collagen of sheep has the ability to tighten the skin by hydration and by improving the skin's elasticity. Sheep placenta is a much-sought-after supplement today, and being able to offer it to your customers has never been easier or more affordable! If your customers are looking for sheep placenta for skin, then you can add this supplement to your product selection. Just contact SolisLabs by phone or by filling out the contact form on this website. Contact Us: +1 (800) 857-1126.
It's worth noting that sheep placenta is good for overall health, not just for use as a beauty product. Therefore, the benefits of sheep collagen are many, making it one of the most beneficial supplements offered by SolisLabs. To view our collagen products or to shop all of our products, just click here.
Top 5 Benefits of Sheep Collagen
SolisLabs is one of the world's top sheep collagen suppliers and manufacturers. If you sell beauty products, then you need our private label sheep collagen in your store. Aside from the benefits that it provides for skin, here five other benefits of sheep placenta:
#1: Effective Relief for Joint Pain
Collagen can improve and maintain the integrity of your cartilage, the tissue that protects your joints. As we age, the collagen levels in our body decrease naturally, and that is why women, ages 35+ are the ideal target market for this product. Studies have shown that sheep placenta can improve symptoms of osteoarthritis and reduce joint pain significantly. Anyone - man or woman - who suffers from joint pain can benefit from our collagen supplements.
#2: Prevent Bone Loss
Bone loss is another natural phenomenon that occurs as we age. Bone loss often leads to osteoporosis and other health conditions. Sheep collagen supplements from SolisLabs may help to avoid the deterioration of bones and the onset of related diseases. More research is needed, but evidence has been established concerning this claim.
#3: Increase Muscle Mass
Although it has not been proven, research seems to strongly indicate that consuming collagen supplements, such as the ones sold by SolisLabs, can promote muscle growth and strength in people who suffer from age-related muscle deterioration.
#4: Better Heart Health
Just like increasing muscle mass, research is suggesting that the consumption of sheep placenta may promote heart health. Collagen strengthens the arteries and increases HDL. Evidence shows that consuming sheep collagen may reduce the risk of heart attack and heart disease.
#5: Other Health
Additionally, sheep placenta appears to have practical uses in gut health, weight loss, brain health, and better-looking hair and nails.
Place Your Order Today
To get the best beauty and health supplements on the market today, contact SolisLabs. We are here to help and answer your questions. Feel free to shop now, and don't hesitate to contact us to place your order or to learn more.
Sheep Colagin