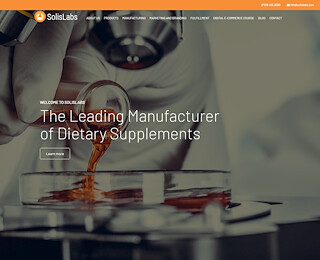 Nutraceutical Manufacturers must meet broad guidelines set by the FDA to be considered credible. These companies produce dietary supplements that most Americans take for a variety of direct health impacts. When choosing a manufacturer, it is essential to understand the credibility of your partner as well as their offerings.
What is a nutraceutical?
Nutraceuticals are dietary supplements. They contain everything from amino acids to vitamins and minerals. These products come in gel, powder, tablet, and liquid form.
Nutraceutical supplements have a variety of health impacts. Some improve heart health while others help prevent blood clotting. Some even help improve brain function.
The capacity of a supplement to affect the body depends on the ingredients. Vitamin K will impact customers differently than amino acids.
How do I know I can trust a nutraceutical manufacturer?
The Food and Drug Administration, FDA, in the United States provides a set of regulations known as the Current Good Manufacturing Practice regulations or CGMP. Facilities, ingredients, and the product are all analyzed to ensure that mix-ups, errors, and deviations are minimal. Only choose manufacturers which meet the guidelines set by the FDA.
When a company fails to meet the CGMP, they are known as adulterated. The FDA recommends never purchasing adulterated supplements. With your customers' health at stake, these products should never reach the market in the first place.
If the FDA considers a poorly produced product to be hazardous to consumers, they can act to prevent widespread harm. The FDA can place injunctions on companies and force a seizure of tainted products. This sort of marketing poorly impacts companies and manufacturers related to targeted supplements. No one wants to be the subject of any form of recall.
Which nutraceutical manufacturers meet CGMP?
American manufacturers generally meet CGMP. These include Solis Labs and Nutra Manufacturing. Our company offers state of the art manufacturing facilities and partnership to produce high-quality products.
Using foreign manufacturers is risky. The Chinese government does not hold manufacturers to the same standard and reactions to hazardous products is either minimal or in response to widespread harm.
Do nutraceutical manufacturers offer other services?
Producers are available if you are new to the supplement business, looking for a research partner, or need help understanding how to expand. Most manufacturers may offer services beyond producing your product. Additional services include packaging, branding, and liquefication.
SolisLabs offers these services We also offer formulation and partnership to help our clients produce a product that is in demand and of high quality.  Certain partners receive access to our experts and even private label formulas to create useful and compelling products. Our facilities and processes meet the Current Good Manufacturing Practice regulations.
Our products and services allow you to target your market adequately. With many supplements available in the market, it is essential to stand out through credibility and branding. Customers see up to five thousand advertisements every day.
If you are interested in partnering with a high-quality nutraceutical manufacturer that works with you as well as for you, contact SolisLabs today. We offer services well beyond manufacturing.