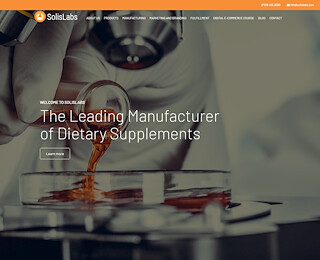 Why buy products from SolisLabs?
There are several manufacturers of supplements and nutraceutical
products and SolisLabs is a leader among private label contractors.
We adhere to CGMP, (Current Good Manufacturing Practices) and are
experienced with FDA compliancy laws. Our manufacturing facility is
state of the art and maintains the highest level of quality control.
We manufacture supplements for several different private label
companies and for everything from joint pain to skin health. Before
leaving our facility, all products are tested and inspected to make
sure they meet our specific guidelines and are giving a certificate of
analysis by our professionals. Our main goal is to create the right
product for the right price and customer satisfaction is the main
goal.
What is a private label brand?
A private label brand is manufactured by a third party for contract and
then sold under a brand name. Grocery retailers are a good example as
well as vitamin and supplement brands. Manufactures of supplements fit
nicely into this group. Most items have a "branded" and a "private
label" offering.
Some categories are:
·         Paper products
·         Cleaning products
·         Frozen foods
·         Vitamins
·         Supplements
·         Dairy
·         Personal care/shampoo/hygiene items
The list is endless.
What are the advantages of buying private brands?
Businesses are interested in filling their shelves with their private
brands. They get to control every aspect of their product and work
directly with the manufacturer. From ingredients to packaging it
allows for more adaptability in the market place for the seller.
Social media is helping drive the health and wellness market and
approximately 65% of people are taking some type of supplement
according to Mintel Research. Working with SolisLabs you will be able
to utilize all our services.  You can use one of our house supplements
or even create and market your very own formula. We can even have
special packaging available.  Our goal is to help you realize your objectives.
What do you look for in a supplement manufacturer?
First, are they CGMP certified? This assures you they are all the
protocols are in place so that the final product meets all the numerous
safety standards.  CGMP does not mean they are FDA certified, it only
means their processes are. The FDA certification is quite basic, so
you should ask. When you are using a third-party manufacturer, you
want to make sure you are selling a quality product and it is 100%
safe and it is what you say it is. You will want a certificate of
analysis for each batch and if they don't provide this service you
probably should look to another facility.
Are they current with their FDA and FTC labeling guidelines? This is
your responsibility but having a manufacturer that keeps up will help.
Do they keep stock? What is their turn around time for manufacturing?
The quicker the better. Do they do custom formulations and labeling?
Are they a one-stop-shop? Custom labeling, formulation, design and
packaging? What are their minimums and pricing?
How experienced are they? Manufacturers of supplements that already
have a good reputation will make your product shine and give you peace of mind.