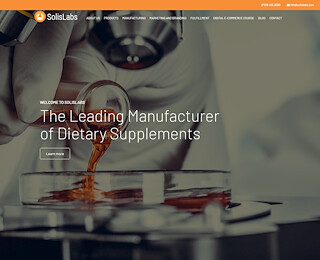 Call for private label supplements, immunity boosters, nutraceuticals, and dietary products: +1 (800) 857-1126.
SolisLabs is devoted to your health and wellness and that of your customers, too. We would like to be your private label partner for immunity boosters and dietary supplements. Our mission is to make the world a happier, better, and healthier place, and we do that by selling the best immunity booster and wellness products on the market today at prices that simply can't be rivaled! Call the 1-800 number above to speak with a SolisLabs representative now. You may also use the live chat feature in the lower-right-hand corner of each web page on this website, or you can leave us a message via the Contact page on this website.
Our Top 5 Best-Sellers for Boosting Immunity
SolisLabs carries a wide variety of immune boosters that you should stock up on. We manufacture supplements, neutraceuticals, and wellness products for private label consumption. When you purchase products from SolisLabs, quality and affordability are ensured to you. Now, here are five of our best immune booster products on the market today:
#1: Multivitamins
Our multivitamins are by far our best-seller here at SolisLabs. For someone who is looking to boost their immune system and doesn't want to take multiple dietary supplements, our multivitamin is the ideal product. Our multivitamins are proven to improve immune function and contain the following; Vitamin C, B1, B2, B3, B5, B6, B7, B9, B12, A, E, D2 (or D3), K, potassium, iodine, selenium, borate, zinc, calcium, magnesium, manganese, molybdenum, beta carotene, and/or iron.
#2: Zinc
In the medical field, zinc has been used for centuries to treat colds, rashes, and to boost the immune system. Many of the foods that boost the immune system are foods that are rich in zinc. All of our zinc supplements are free of additives and are all-natural immune system boosters. We have the best zinc on the market today.
#3: Elderberry
The berries and flowers of the elderberry tree are jam-packed with antioxidants and vitamins that boost the immune system, but consuming them might not be feasible or desirable in their raw form. SolisLab's elderberry dietary supplement products make it easy to consume elderberry and to get the immune boost needed.
#4: Probiotics
Our probiotics are also one of our best-sellers and are known to boost the immune system by inhibiting the growth of harmful bacteria. Probiotics can also boost immune cells by promoting the production of natural antibodies in the body.
#5: Fish Oil
Fish oil, and in particular, long-chain omega-3 fatty acids, enhance the function of immune cells, thereby boosting the immune system. Our Fish oil supplements are pure and are rich in DHA and EPA, which are commonly known to prevent diseases by alleviating inflammation.
Contact SolisLabs to Place Your Order
If you are looking for the best vitamins for boosting your immunity, you'll find top immune support products here at Solislabs. You may reach out by phone or by filling out the form on our Contact page.